Artists For Digital Rights Network (A4DRN) is a grant-funded project under Disinformation Lab, a collaborative initiative between Innovation for Change East Asia and Doublethink Lab.

Disinformation Lab brings together and mentors digital rights campaigners from across East Asia to brainstorm and prototype new solutions to the region's disinformation challenges.
A4DRN is the brainchild of some of the foremost voices working across arts and digital rights in Indonesia and the Philippines, and a creative solution to the problems of information disorder and digital rights issues related to disinformation. Mac Andre Arboleda, Bernice Soriano and Precious Marie Gunayon of the Philippines, and Rangga Purbaya from Indonesia, were inspired to create the network while attending a "training of trainers" workshop on civil society capacity building to counter disinformation conducted by Doublethink Lab.
The quartet, who share a background in digital rights advocacy and the arts, issued an open call to participants from Indonesia and the Philippines to attend capacity building workshops on disinformation, with an eye to turning their learning into artworks. More than 50 artists applied for the opportunity, with the team whittling down the applicants to a final group of 10 artists (7 from Philippines and 3 from Indonesia), based on their understanding of digital rights, and to ensure diversity of representation.
Dr. Marian Pastor Roces and Dr. Nicole Curato, both of whom are leaders in the fields of disinformation, politics, arts and culture, then provided the group with online disinformation training. The artists were then given one month to turn their newfound knowledge into artworks. As the A4DRN team had undertaken training on disinformation, fact-checking, and other relevant fields, they were able to mentor the artists throughout the creative process. The result was an open access and free-to-download publication of artworks representing "counter-narratives" to disinformation. It now serves as a permanent and readily-accessible counter-disinformation resource.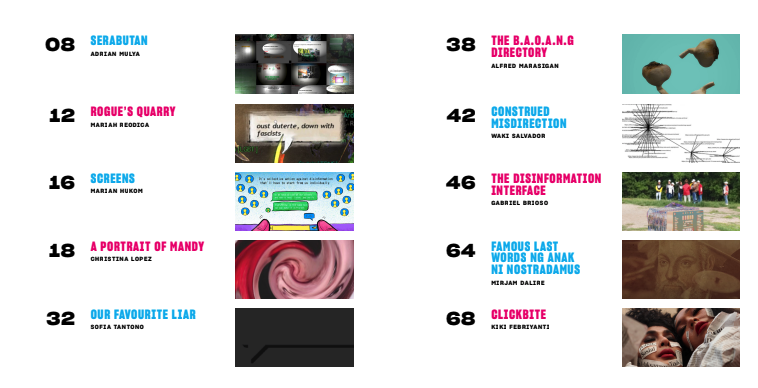 All the artists were invited to a virtual round table to present their work and exchange ideas with other artists in the region. The roundtable was hosted on Gather Town, a role playing game-like playable virtual space. More than 30 people from several countries attended, including activists, curators, academics, fellow artists, advocacy workers, and journalists, helping spread the work about A4DRN and its work.
Artists For Digital Rights Network is an ongoing project that aims to expand beyond its roots in the Philippines and Indonesia to involve participants from other countries. Artists who are interested in digital rights can now sustain conversations and share opportunities across borders, as well as collaborate or work on future digital rights-related projects.